Our Software Development stand at Huntingdon Business Fair 2015
May 6, 2015
If you were at the Huntingdonshire Business Fair, you may be wondering how many boxes made up that pyramid. Well, the answer is 172 (well done Emily!). Last month's event was an overwhelming success for Cambridge Software, giving us the opportunity to showcase our unique combination of top-quality technical expertise and outstanding customer service around software solutions.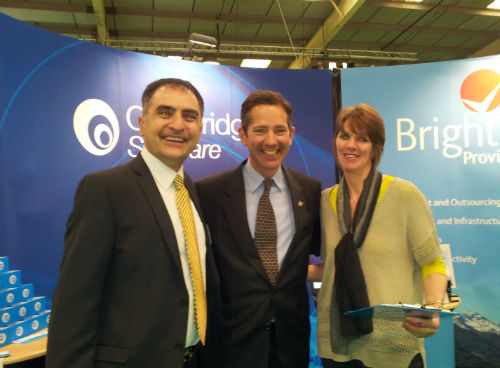 This year's event, held at Wood Green Animal Shelters in Godmanchester, was a fantastic opportunity for attendees to forge new relationships, spread the word about their products and services, and meet other suppliers and service providers. Cambridge Software was there as a proud sponsor of the event, which was attended by over 100 exhibitors and included an all-day programme of seminars and workshops.
Our own stall was manned by Managing Director Phil Mashinchi and Operations Manager David McLeary, and was shared with our sister company BrightVisions, represented by their Director, Helen Mashinchi. Jonathan Djanogly, MP for Huntingdon, paid us a visit and is pictured above with Helen and a smiling Phil.
A Passion for Software Development
We're passionate about software development, but we're also big believers in top-quality customer service, so talking to people face-to-face allowed us to demonstrate how we combine technical expertise with client care to deliver the perfect solution. Instead of just talking about what we do, we were able to deliver live demonstrations of our CRM system, EliteBMS to show businesses how easily they can manage their data with our solution.
We believe that a straightforward, no-jargon approach to software is essential to ensure clients get what they are looking for. For us, delivering software that adds value to the business process means listening to clients' specific requirements.
Nowhere is this more important than in mobile apps, where making custom software for mobile users is often confused with making a desktop app work on mobile. We are proud of what we do, but the excitement shown by visitors to our stall was overwhelming, and we hope the event will lead to a host of new relationships.
How many triangles?
How can we talk about the Hunts Business Fair without mentioning the highlight of the day?! A giveaway is always a great way to get people engaged, so we constructed a pyramid out of triangular boxes of business cards and invited people to guess how many boxes we'd used. The true number stood at 172, but estimates ranged from 75 all the way to 324. The winning guess of 184 was made by Emily Dawson, who is now the proud owner of a super-stylish tablet PC!
For Managing Director Phil Mashinchi, the day was a huge success: "We were delighted to have sponsored the Hunts Business Exhibition and been present at the event.
"It gave us the opportunity to showcase EliteBMS, our new CRM system, and the interest exceeded our expectations and was exceptional. This confirmed our approach in helping businesses to grow by making technology fit the business and that events such as this are ideal for giving businesses the opportunity to make new contacts and increase their visibility. Our place for the 2016 event has already been booked!"
So if you enjoyed this year's event as much as us, see you next April!
Did you meet us at the Huntingdonshire Business Fair last month? Or perhaps you'd simply like to know more about our business? To find out what we can do for you, please give us a call on 01223 626265, or email hello@cambridgesoftware.com.